Commonwealth Games: Queen's Baton Relay Wales leg starts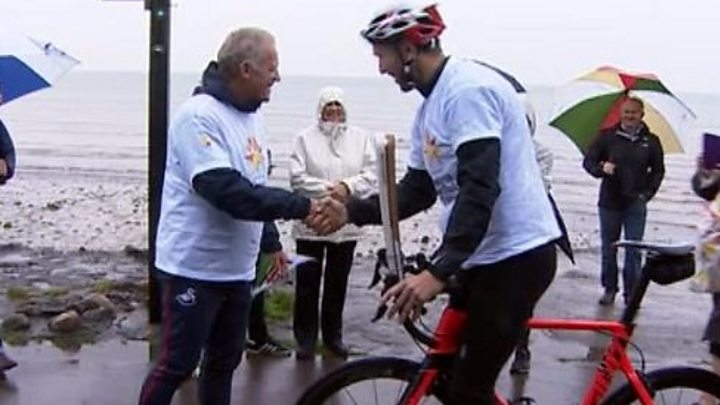 Sporting stars and community leaders will spend the next four days marking the countdown to next year's Commonwealth Games, as the Queen's Baton Relay comes to Wales.
It arrived in Swansea on Tuesday morning, carried by sea to Mumbles by the RNLI.
First Minister Carwyn Jones then greeted the baton bearers in Bridgend, before it headed to Cardiff.
More than 130 people will help carry the baton during the Welsh relay leg.
"The Queen's baton was actually born in Wales, as the prelude to the British Empire and Commonwealth Games in Cardiff in 1958, and it continues to be a symbol of peace and harmony through participation in sport," said the first minister, ahead of the baton's arrival.
"A number of Welsh legends will be carrying the baton this week as it takes further steps towards the Gold Coast Commonwealth Games' opening ceremony next April, where we'll all be wishing the very best for Team Wales."
Welsh Secretary Alun Cairns - who is a keen marathon runner - added: "These celebrations will bring the dedication of our athletes, the heart-warming stories of local heroes and the spirit of the Commonwealth Games right to the heart of our local communities."
The baton will cover 350 miles (563km) as it criss-crosses Wales, making it the longest Welsh relay leg to date.
In total, it will visit 71 countries, covering 200,000 miles (321,868km) in 388 days, before arriving in Australia's Gold Coast for the games.
Commonwealth Games Wales chairwoman Helen Phillips said: "The arrival of the Queen's baton in Wales brings the excitement and anticipation for the Gold Coast Commonwealth Games to our communities, giving the people of Wales the chance to engage with this global symbol, and start focusing on the fortunes of Team Wales next year."
The first day of the baton relay in Wales saw the likes of rugby legend Ryan Jones, Swansea City's Leon Britton, Casualty star Suzanne Packer, Paralympic shot putter Julie Hamzah, Olympic gold medallist Hannah Mills, and BBC Wales' own Lucy Owen carry it through the streets.
Former world boxing champion Enzo Maccarinnelli was also among those carrying the baton.
"Although I did not have the opportunity to compete in the Commonwealth Games as an amateur boxer, I think they are a very important part of the amateur sport, especially for young boxers, and the chance to promote boxing in the games is something that is very important to me," he said.
Rugby player, rower and adventure sports athlete Elin Haf Davies, from Bala, Gwynedd, added: "It's a great thing that Welsh teams are able to compete on the international stage, in a competition that draws so much attention from across the globe.
"I hope the Welsh teams can go out to the Gold Coast games and win the greatest number of medals in the team's history."