Healthcare qualifications cut from 240 to just 20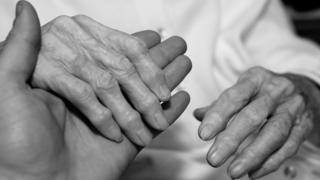 A major shake-up of qualifications for people looking to work in health, social care and childcare in Wales has been announced.
It will mean the current raft of 243 qualifications will be replaced by just 20 from September 2019.
Currently, about 17,000 people in Wales undertake some form of the qualifications every year.
Qualifications Wales said it would make career progression "clearer and much more straightforward."
There will also be one awarding consortium, not 21 different examination bodies.
It follows a review by the new regulator last year, which found the system "complex, confusing and patchy".
Now it has decided on "the biggest change to qualifications ever seen" in the sector - which has nearly as many people working in it as the population of Swansea.
It includes looking after people in hospitals, residential homes, in their own homes and also childcare.
City and Guilds and exam board WJEC have been chosen as the consortium and are said to have provided "strong proposals for engaging and challenging new qualifications".
"The number of people employed in this sector in Wales runs into the tens of thousands," said Qualifications Wales chief executive Philip Blaker.
"These workers care for some of the most vulnerable members of our society, and need to be properly trained and assessed."
What do the changes mean?
The new qualifications will be taught from the age of 14 and include those on apprenticeships from September 2019.
There will be up to 20 qualifications, from Level 1 to 5, designed to "reduce complexity, raise quality and increase coherence".
There will be one awarding body and the new qualifications will be the only ones eligible for funding by the Welsh Government or local authorities.
The first certificates will be awarded in 2020.
Sarah McCarty, director of improvement and development at Social Care Wales, said they would continue to listen to those involved in the sector to ensure the new qualifications met the needs.
"It is vital we have a range of qualifications that are fit for the future, to support a skilled and confident workforce," she said.
WJEC chief executive Gareth Pierce said: "The initiative will have an impact, both socially and economically and we're delighted to be a leading part of it."