Test for HIV at GP registration in Wales, charity says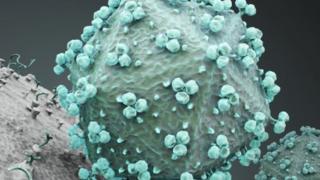 Patients should be encouraged to have HIV tests when they register with a GP in Wales, a charity has said.
The call is aimed at cutting late diagnosis and reducing the stigma attached to the disease.
There were 168 positive tests in 2015 - 18 fewer than in 2014, according to newly-released figures which relate to data from STI clinics.
Sarah Fuhrmann, national director of Terrence Higgins Trust Cymru, said tackling the problem was "challenging".
A trial was launched in July of the drug Prep which dramatically cuts the chances of infection to those at risk, but it cannot address late diagnosis.
"We have to tackle the stigma," Ms Fuhrmann said. "HIV is a symptomless condition. If you're not feeling poorly, why would you go for testing?
"Some places in the UK, everyone who registers with a new GP has to have a HIV test and it's had a really big effect in places like Hackney [London].
'Dirty thing'
"The more we can normalise testing the better. That has been the problem at the moment. It's about debunking sexual health as a 'dirty' thing.
"Late diagnosis is something we really shouldn't be seeing in this country in the 21st Century."
She added it would not cost councils much money to fund the project and would also help GPs, "and their empowerment in sexual health practice".
Dr Olwen Williams, a consultant genito-urinary physician at Wrexham Maelor Hospital, said: "We are getting individuals who really don't know how they are acquiring the infection.
"We are now 30 years into the Aids epidemic and we should see people early on, start early treatment and make the person [their level of infection] undetectable."
Public Health Wales (PHW) published the latest figures in its annual HIV and STI trends surveillance report.
Dr Daniel Thomas, an epidemiologist at the Communicable Disease Surveillance Centre at PHW, said everyone who was diagnosed late or remains undiagnosed was a "missed opportunity" and increased the risk of passing the virus on to others.
He added: "We continue to advise that using a condom can prevent transmission of STIs and HIV, and that anyone who thinks they may have been put at risk is tested as soon as possible."