Salmon and sea trout 'could disappear' from Welsh rivers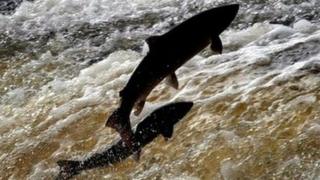 Salmon and sea trout could disappear from Welsh rivers with stocks reaching "unprecedented lows", Natural Resources Wales has said.
Fisheries are worth about £150m to the economy each year and support about 1,500 jobs.
NRW is running a consultation until November on what can be done to increase stocks.
Proposals for new bylaws, which would be in place for ten years, include making anglers put back fish caught.
Fish stocks are assessed annually and 21 of 23 salmon rivers are at risk of not meeting target numbers, while 21 of 33 sea trout rivers were described as vulnerable.
NRW's Ceri Davies said: "The decline in number of salmon and sea trout migrating back into most of our rivers is now so serious that we need to give more adult fish the chance to spawn if we are to ensure the survival of the species in Welsh waters."
In 2014, it urged anglers to release more of the fish they caught to conserve stocks but has now taken that advice a step further.
Other proposals for people fishing with nets and rods include maximum catch sizes and restricting what bait is used.