Eisteddfod 2017: Welsh Learner of the Year is Emma Chappell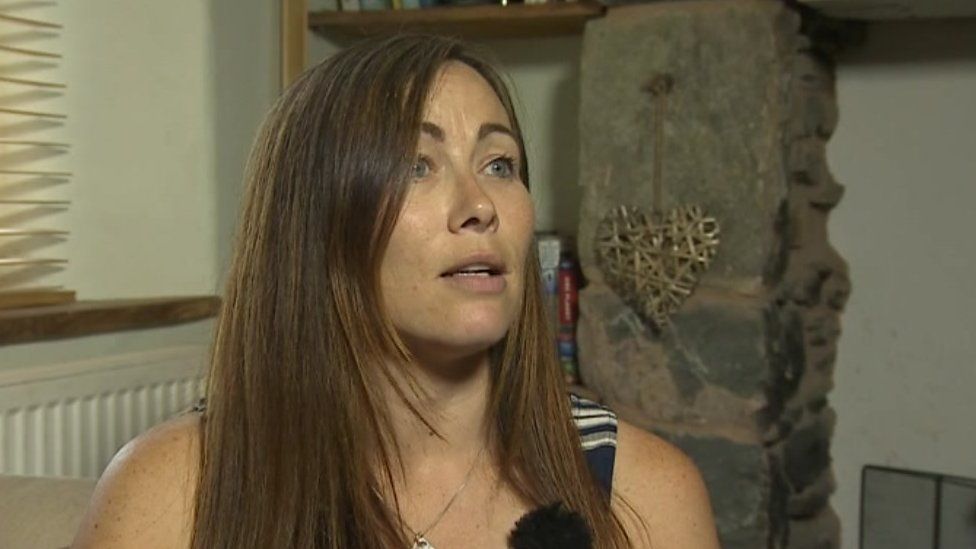 A night school student has been crowned Welsh learner of the year at the National Eisteddfod on Anglesey.
Emma Chappell, from Cambridge, started learning the language at night classes after meeting her partner Arwel, before moving to Gwynedd.
Meanwhile the music medal was not awarded after none of the entries were deemed to pass the "success threshold".
Judges said none of the compositions for brass bands on the theme of astronomy and space merited to be awarded the prize, and decided to withhold the award for 2017.
In a statement they said: "The three of us believe that this is a blip - one year where, for some reason the candidates have not been inspired, and we are confident that the competition will go from strength to strength in future years. "
The Welsh learner of the year award is open to anyone aged over 18 who has learnt Welsh well and it celebrates the contribution of Welsh learners to the language and to communities.
Winner Ms Chappell, who has two children, was given a trophy and £300. She was born in Cambridge and brought up in Royston, Hertfordshire, but now lives in Deiniolen, Gwynedd.
Ms Chappell's partner is Welsh and she said she knew the language and his national identity were very important to him, so she decided to learn the language.
Ms Chappell, who lived in Warrington at the time, found an evening class in the town before moving to Wales and immediately enrolling in a Welsh class.
"Explaining the benefits [of learning Welsh] to people goes a long way, especially for those who have children, it really has changed my life and has been a massive benefit to the family," she said.
Runners-up Hugh Brightwell, Daniela Schlick and Richard Furniss each pocketed £100.
Hugh Brightwell - 'Feeling of achievement'
Mr Brightwell, who lives on the other side of the border, in Ellesmere Port, got interested in Welsh after speaking to his wife, Gilly, about moving to Wales.
That also sparked an interest in Welsh culture and history.
Mr Brightwell has done classes and online courses, as well as summer and day schools to improve his skills, and has even studied archaeology in Welsh.
He said he would convince others to learn Welsh by telling them about the "feeling of achievement and heightened confidence with even simple steps forward".
Daniela Schlick - 'A whole new world'
Ms Schlick, who is originally from Germany, said she fell in love with Wales during a holiday and was inspired to return and pick up the lingo.
She moved to Menai Bridge two years ago, enrolled in a Welsh class and has since passed her intermediate course. She is now studying for her higher course.
"From my point of view and my experience I can say that, once you start, a whole new world will open up," Ms Schlick said.
Richard Furniss - 'Not too scary'
Mr Furniss lives in Llangefni with his wife, Delyth, and has been learning Welsh since 2005.
He originally started learning in a bid to find work locally but, as he found out more about Wales, its culture and what the language means to people, it became a big part of his life.
Mr Furniss learnt via evening classes in Bangor and Llangefni, through Bangor University, and he said his wife and in-laws have also been a great help.
"I feel it's important to explain to people about learning and convince them it's not too scary and that people will be there to support them," he said.