Call for mental health 'champions' to help 999 workers
By Sophie Gidley
BBC News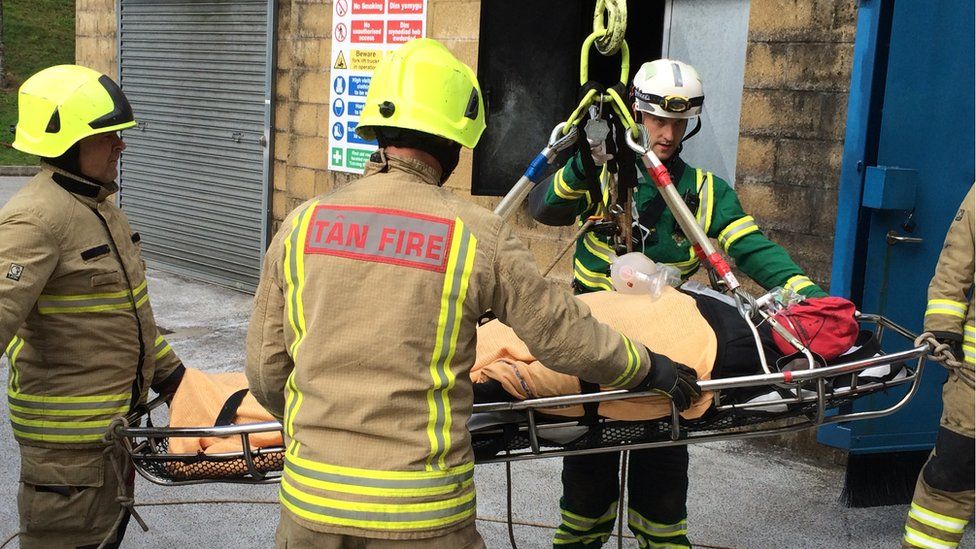 Calls have been made for more emergency service workers to take on a role offering mental health support to colleagues.
Mental health charity Mind Cymru is reaching out to staff to become "Blue Light champions".
Emergency services said they are increasing the different types of mental health support available.
The most recent figures from Mind Cymru showed about 90% of emergency workers have experienced stress while 25% have contemplated suicide.
The Blue Light programme aims to help 20,000 emergency and search and rescue service workers across Wales.
It offers training to help staff deal with situations, and for managers to help them.
Mind Cymru said it needs staff or volunteers - known as champions - to help "raise awareness of mental health issues" in the workplace and be a point of contact for struggling colleagues.
Penny Cram, who runs the programme in Wales, said: "Eight out of 10 emergency service staff and volunteers we surveyed thought colleagues would be more comfortable talking about physical health than mental health (79%).
"What's more, we know that talking saves lives - being judged and isolated can be harder than the mental health problem itself.
"Blue Light champions can help to change the way we all think and act when it comes to mental health in the emergency services."
Claire Whiles, the Welsh Ambulance Service's organisational development manager for health and wellbeing, has recently become a Blue Light champion.
She said working for an emergency service could be "challenging, both physically and mentally".
"Looking after our colleagues, who save lives day in, day out, and help people at their most vulnerable, is really important to us and we have been active in raising awareness of this welcome addition to the mental health support we already provide," she said.
Ms Whiles highlighted that the Welsh Ambulance Service has a number of initiatives offering staff support, and plans to introduce a trauma risk management programme from November.
North Wales Police said it had recently launched a mental health peer support scheme and was continuing to promote existing support, such as counselling, critical incident debriefing and welfare screening.
Dyfed-Powys Police said it offered a range of support - such as trauma risk management, a 24/7 care line and programmes helping mangers to identify stress - which are "constantly reviewed and developed".
Gwent Police said it had a confidential service for all employees, available "seven days a week, 365 days a year", which included counselling.
Almost 30 staff at South Wales Fire and Rescue Service have expressed an interest in becoming Blue Light champions, the force said.
Mark Malson, the fire service's head of human resources, said they had welcomed "the opportunity to actively challenge mental health stigma, learn more about mental health and make positive changes in their approach to wellbeing with the support of the programme".
North Wales Fire and Rescue Service said it was "committed to the health, safety and wellbeing of its staff".
"We are working collaboratively with the other two fire and rescue services in Wales and with colleagues from the Blue Light programme to ensure that we are fully supporting our employees, which in turn allows us to reap all of the evidence-based benefits," a spokeswoman added.