Employment tribunal fees axe could help older claims - Unison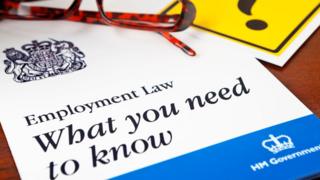 People who decided not to take cases to employment tribunals because fees were introduced could now make claims after the charges were ruled unlawful.
The Unison union said those with claims rejected because they had not paid the fee could write to the tribunal saying it was no longer required.
Fees of between £390 and £1,200 were introduced by ministers four years ago.
Unison won its case against the UK government over the charges at the Supreme Court last week.
Now, those people who did not pursue a case due to the cost could ask the tribunal to use its discretion to hear it, even if it was technically out of time.
Official figures show a 70% drop in employment tribunal cases in Wales since fees were introduced in July 2013.
There were 2,561 individual claims before fees came in but in comparison only 757 were made in the most recent year.
The UK government said it introduced the fees to reduce the number of weak or malicious cases.
But Unison's assistant general secretary, Bronwyn McKenna, told BBC Wales there were examples of some employers doing credit checks on staff who planned to take cases against them.
"Some employers were not engaging with the settlement process if they knew that there was no prospect of a claim being brought" because the worker did not have the money for the fees to proceed with the case, Ms McKenna added.
---
It's a great thing that the fees have been scrapped; it's a huge step in the right direction
John Gilheaney, a communications officer from Llantrisant, was told by his solicitor that he had a 50/50 chance of successfully taking his former employer to a tribunal over claims he had been bullied.
The fee involved was one of the main reasons he decided against pursuing the matter and he left his job.
Mr Gilheaney is unsure whether he will re-open his case.
"Going to an employment tribunal, as well as being a financial investment, there's an emotional investment too," he said. "It was two years ago when I was in this dilemma so to reopen that again would be tricky and the prospect of seeing my former line manager would be hard.
"But it's a great thing that the fees have been scrapped; it's a huge step in the right direction."
---
The Wales TUC has called the ruling a "massive win for working people in Wales".
Since the Supreme Court ruled the fees were unlawful and unconstitutional, ministers have said they will immediately stop the charges and would reimburse those people who have already paid.
Fees have raised about £32m since being introduced.
Justice Minister Dominic Raab said in setting fees, the UK government had to consider access to justice, the costs of litigation and how to fund the tribunals.
"The Supreme Court recognised the important role fees can play, but ruled that we have not struck the right balance in this case," he said.
"We will take immediate steps to stop charging fees in employment tribunals and put in place arrangements to refund those who have paid.
"We will also further consider the detail of the judgment."