BBC salaries: Top-paid Welsh stars revealed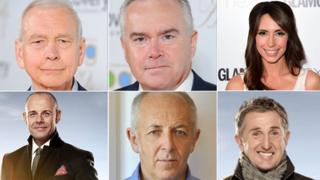 Television and radio presenter John Humphrys has been named as the highest paid Welsh talent at the BBC.
The Mastermind and Today programme host earns between £600,000 and £649,999.
Other Welsh stars who made the highest paid list included BBC News presenter Huw Edwards, One Show host Alex Jones and Radio Wales and sport presenter Jason Mohammad.
Rugby pundit Jonathan Davies and journalist Jeremy Bowen also earned more than £150,000 a year at the BBC.
Former Top Gear host and Radio 2 presenter Chris Evans tops the overall list, earning between £2.2m and £2.25m in 2016/2017
The highest-earning Welsh presenters:
John Humphrys £600,000 - £649,999
Huw Edwards £550,000 - £599,999
Alex Jones £400,000 - £449,999
Jason Mohammad £250,000 - £299,999
Jeremy Bowen £150,000 - £199,999
Jonathan Davies £150,000 - £199,999