Emotional child abuse reports on the increase, NSPCC says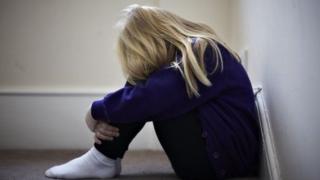 Reports of children in Wales being emotionally abused have risen three-fold since 2009, the NSPCC has said.
There were 344 cases last year, up from 112 calls from people worried about such abuse in 2009-10.
It alerted police or councils to 272 of those cases in 2016-17, compared with 205 the year before, after concerns about the severity of the allegations.
NSPCC Cymru boss Des Mannion said parents or carers verbally abusing children was "devastating" for them.
"The huge increase in people recognising and reporting emotional abuse to our helpline indicates people are willing to take action," Mr Mannion said.
"But the disturbing truth is that the UK has no idea how many other children are suffering from emotional abuse or in fact, any type of abuse."
The charity's report said helpline staff received accounts of parents telling their children they hated them or wished they were dead and threatened them with violence.
It said on-going emotional abuse could make children feel worthless and unloved, adding it could lead to issues in later life, such as depression.
Across the UK, the charity said it received 10,009 calls about emotional abuse last year.