Welsh university funding set to fall by £28.3m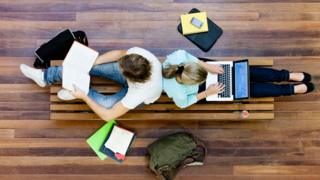 Higher education bodies in Wales will get £28.3m less funding in the coming year, it has been announced.
The Higher Education Funding Council for Wales - Hefcw - said it reflected its response to "significant reductions" to resources over two years.
In total, the sector will get £99.3m from the body over the 2017-18 academic year, down from £127.6m in 2016-17.
It comes as several Welsh universities warn of job losses over funding.
Bangor University became the latest to announce it was in talks with unions about potential cuts affecting up to 170 posts.
It follows similar discussions at other institutions, including Aberystwyth, University of Wales Trinity St David, and University of South Wales.
The Welsh Government funded body, Hefcw is responsible for setting university fees, and also assessing standards.
However, Education Secretary Kirsty Williams announced in January it will be replaced with a body covering all post-16 education and research.
Announcing the settlement for the next year, Hefcw said its funding now represented less than 10% of the income generated by universities in Wales as they able to charge up to £9,000 a year in tuition fees.
"Higher education providers' income also reflects their successes in achieving additional earnings from competitive grant capture, a range of commercial activities and recruitment of international students," added Hefcw chief executive Dr David Blaney.
Student finance across Wales is expected to see a massive shake-up in 2018-19, when the Welsh Government implements recommendations from the Diamond Review, which will overhaul how loans and tuition grant payments are made.
In the meantime, Dr Blaney said Hefcw would "continue to invest the resources available to us in priority areas" to "provide a high quality student experience that is accessible to all and which produces highly skilled and employable graduates".