Wrexham's HMP Berwyn prison on RICS building design shortlist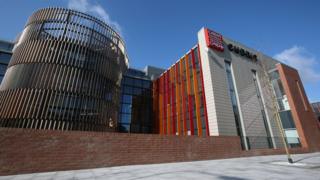 A prison, chapel, university and ice arena have all made the shortlist of Wales' annual property awards.
The Royal Institution of Chartered Surveyors (RICS) Awards recognise building projects with innovation, conservation and community benefits.
The shortlist of 24 entries includes Wrexham's new super-prison HMP Berwyn.
The project of the year title will be presented to the overall winner. It was was awarded to the £12m restoration of Cardigan Castle, Ceredigion, in 2016.
Among the building projects shortlisted are: