Police helicopter targeted by laser pen while on call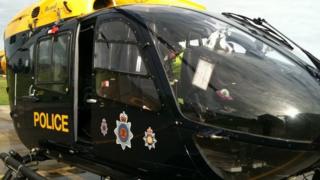 A police helicopter has been targeted with a laser pen while responding to a call in south Wales.
The National Police Air Service (NPAS) said the incident on Monday involved a crew from St Athan, Vale of Glamorgan, and could have had "devastating consequences".
About 1,380 laser attacks on aircrafts were reported to the Civil Aviation Authority last year.
Ollie Dismore from NPAS said such attacks were a "serious concern".
"What may seem harmless fun to the culprit could potentially have devastating consequences for the crew and passengers in the aircraft [and] innocent members of the public on the ground," he said.