BBC Wales removes rugby promo amid social media backlash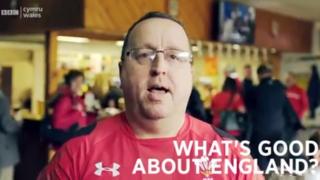 BBC Wales has removed a promotional trailer for Saturday's Wales v England Six Nations rugby match following criticism on social media.
Politicians and commentators said the post on Twitter was "anti-English".
In it, a Wales fan asked "what's good about England?" before puzzling over the question, followed by other fans also considering and failing to answer.
Richard Thomas, BBC Wales' head of digital and marketing, said: "No offence was intended.
"It was meant to be tongue in cheek but clearly didn't hit the right note."
Plaid AM Rhun ap Iorwerth tweeted: "This is not what promoting Wales and Welsh rugby is about, surely. I don't define my Welshness by being anti-English."
Preseli Pembrokeshire MP Stephen Crabb tweeted: "However it is dressed up, anti-English sentiment belittles Wales."
Rugby correspondent Simon Thomas said it was a "good decision" to remove it.