Cathedral doors locked as new Llandaff bishop chosen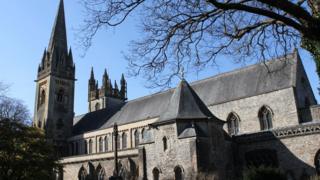 The doors of Llandaff Cathedral will be locked for up to three days this month as a new bishop is elected, it has been announced.
An electoral college of 47 people drawn from all over Wales, including all the bishops, will meet on 21 February to vote on a confidential candidates list.
The election follows the retirement at the end of January of Dr Barry Morgan.
The new bishop will be the 72nd Bishop of Llandaff, a diocese which serves nearly half the population of Wales.
The college is made up of representatives from all six Welsh dioceses.
Once a bishop is elected, he or she will have up to 28 days to accept the position. If he or she accepts, the election will be formally confirmed in April.