Wales' Euro 2016 journey to be released in cinemas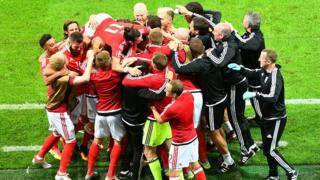 The story of Wales' remarkable journey to the semi-final of Euro 2016 is to be released in cinemas.
Don't Take Me Home follows how Wales ended a 58-year wait to reach a major tournament and surpassed expectations in France.
Chris Coleman's team topped their group and beat Belgium on their way to the last four before losing to Portugal.
The film is out in UK cinemas on 3 March but there will be previews around Wales on St David's Day.
In his first interview about the movie, film-maker Jonny Owen told the BBC's Good Evening Wales programme: "The biggest part for me, and one of the biggest parts of the film, was that we'd finally made a major tournament for the first time in nearly 60 years and, when we found our place in the sun, boy did we revel in it.
"I think everybody would want Wales in a major tournament from now on because the way we were was just exemplary all round."
Mr Owen said the FAW brought him in after the Wales team watched his film about Nottingham Forest - I believe in Miracles - while in France.
And he added that he had only managed to keep it a secret because he was living in Nottingham.
"If I'd been living in Wales and had a few pints with the boys, I might have been more loose-lipped," he said.
"Full credit to the FAW, they kept their nerve and didn't say anything when they could have and they wanted it to be a big surprise."
He said he had interviewed all the players who started games, so it is their narrative in the film.
And he said the glossy film footage is interspersed with lots of mobile phone footage, showing the fans' journey as well as that of the players.
He said he had been told watching the film was an emotional experience.
"I do mention the passing of Gary Speed at the top because one thing about this team was they were young men, or young boys in many cases, when Gary passed.
"What they've achieved since is very emotional when you think of where they've come from."