Lloyd George's 'secret daughter' in auction photos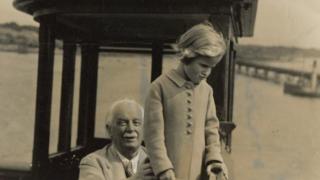 Photographs showing former prime minister David Lloyd George with his 'secret daughter' are to go up for auction.
Jennifer Longford was the only child of Frances Stevenson, Lloyd George's secretary and mistress.
She knew him as her grandfather but had strong suspicions he was her father.
Family pictures showing the pair together have been revealed five years after Ms Longford's death at 82.
Lloyd George, who was the MP for Carnarvon Boroughs, was notorious for his affairs and wed Ms Stevenson after the death of his wife Margaret.
Ms Longford was born 1929 and was told she was adopted after her parents were killed.
The auction is being held Dreweatts & Bloomsbury in London on 23 March
The lots include family pictures, a collection of cards and letters exchanged between Lloyd George, Frances Stevenson and Jennifer Longford, and a solicitors letter showing Jennifer Lonford's adoption
Items are expected to sell for between £500 and £2,500.