Grandmother Sue Percival's stolen presents replaced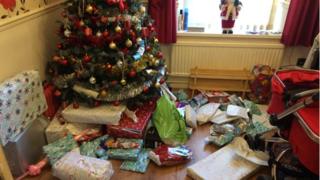 A grandmother has thanked well wishers who have saved her family's Christmas after a burglar stole £900 in presents.
One Good Samaritan gifted £600 and another gave Sue Percival £180 following the burglary at her home at Tonypandy in Rhondda Cynon Taff.
Her British Gas colleagues also raised £150 so she and her daughter were able to replace stolen goods like a laptop and three Android tablets.
"Thanks to everyone. We have replaced everything " she said.
"They have been so kind."
The man who donated £600 wishes to remain anonymous and another set up a fundraising page after South Wales Police put out a plea for information following the burglary on Wednesday between 07:30 and 11:30 GMT.
'Invasion of privacy'
Ms Percival's grandchildren and daughter, Steph Summers, discovered the theft.
Four-year-old Tristan, the first in the house, told her: "Mum, Santa's been. All the presents are open."
Ms Percival said being a victim of burglary had been "devastating" as she felt it was an "invasion of privacy".
She said she had not wanted to leave her home since the incident.
She said neighbours had been supportive, giving her the confidence to go shopping to replace the stolen presents.