Christmas lunches for Welsh ambulance staff on shift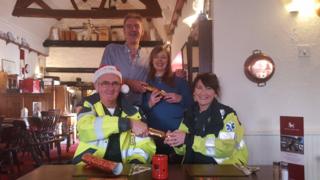 About 30 pubs and restaurants in Wales have agreed to feed Welsh Ambulance Service staff working on Christmas Day.
More than 400 members of the service across 86 stations and three contact centres will be working on Sunday.
The restaurants will deliver lunches to the stations on Christmas Eve or Day, depending on the area, as a gesture of goodwill.
The Ambulance service said it would meet the cost of supplying extra meals so all staff are fed.
Meanwhile, some councils and restaurants have said they will provide free lunches for homeless people and the elderly.