Prince William to succeed Queen as Welsh Rugby Union patron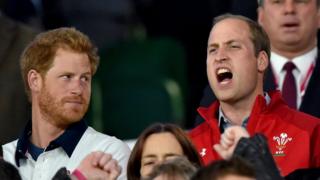 The Duke of Cambridge will take over from the Queen as the Welsh Rugby Union's patron.
The WRU role is one of 25 patronages the Queen will pass on to other Royal Family members, Buckingham Palace announced on Tuesday.
Prince William's brother Harry will take over as royal patron to the RFU, the English rugby union.
"We thank Her Majesty the Queen for her support over the years," said WRU president Dennis Gethin.
"We are delighted that the Duke of Cambridge will take over from his grandmother as patron of the Welsh Rugby Union."
The Queen's grandsons had been vice royal patrons of the respective unions, Prince William with Wales since 2007 and Prince Harry since 2010.
In fact, the Welsh Rugby Union created the Prince William Cup in 2007 where Wales and South Africa contest the trophy to celebrate 100 years of rugby rivalry between the nations.
The Duke of Cambridge actually presented Mr Gethin with his OBE earlier this month and the WRU president welcomes his appointment.
"Since becoming vice patron in 2007, His Royal Highness has been a great ambassador, not only for the Welsh Rugby Union, but for young people and for sport generally," said Mr Gethin.
"He makes a great difference to everyone he meets on his regular visits to Wales and to Principality Stadium, interacting with all kinds of individuals and groups including players past and present, volunteers, apprentices, veterans and staff."
The Queen has been patron of the RFU since 1952 and English rugby's president Peter Baines said: "It has been a privilege and an honour to have the Queen as Patron of the RFU for over 60 years.
"She has been a fantastic supporter of the union and we thank her for that and her contribution to the game of rugby in England."