Dyfed-Powys Police: Mark Collins starts as chief constable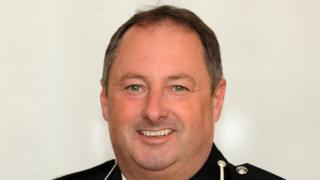 Former Dyfed-Powys Police special constable Mark Collins has now formally taken up his post as the force's chief constable.
Mr Collins was most recently the deputy chief constable of Bedfordshire Police.
He takes over from Simon Prince, who is retiring after three years.
Mr Collins said: "Today is my first day back with Dyfed-Powys Police and I am truly privileged and humbled to take up my post here as chief constable."
He told officers and staff his priorities were:
to support and protect the most vulnerable in our communities
to improve standards across the organisation
to improve victim satisfaction and confidence in policing
"We are under ever-increasing scrutiny from the HMIC, IPCC and the media. I welcome this and want us to be the very best that we can be," Mr Collins said.
"These priorities are what we should be focussing on, on a daily basis; in every contact we have with our communities, our partners and our stakeholders."
He began his police career as a special constable in Carmarthen in 1987, and lives in Carmarthenshire with his wife.