Polish sausage and squirrel book among gifts to police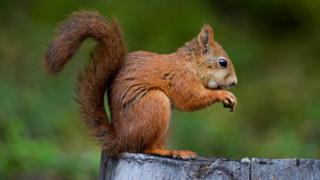 Home cured Polish sausage, dates from Saudi Arabia and a book on red squirrels are among gifts given to police officers.
Forces keep records of hospitality and gifts offered to officers and staff.
Thank-you gifts included free trouser repair and Hindu robes in recent years.
Gwent Police Federation chairman Tim Wilcox said: "It's really nice to acknowledge that members of the community want to say thanks to individual officers."
Officers in Wales are unlikely to go hungry while in the office or out on the beat, judging by disclosures from four forces.
By far and away, the most common gifts to officers and staff were treats - with enough biscuits, cakes and sweets to feed a small army.
One chip shop even gave a hungry patrol officer in Porthcawl, Bridgend county, a free chicken pie and small portion of chips.
The officer reported the gift, saying: "I was told that they were closing soon and didn't have a full portion of chips left but I could have what was left for free. I accepted with thanks.
"They also offered a chicken pie which I initially declined but when they told me it was only going in to the bin as they were closing I accepted."
The officer was told the gift was "approved on this occasion in line with policy" but in future, efforts should be made to reimburse the company.
Alcohol is another common gift, but depending on circumstances, cannot always be accepted.
Simon Newport, North Wales Police Federation chairman, said: "Years ago, you'd get whiskey, wine, boxes of chocolate which you could accept providing you'd disclose it.
"It happens less and less now - it's a modern day culture. It's difficult to say no to a little old lady who comes to the nick with a bottle of wine to say thank you."
For some people, the only proper way to show their appreciation was to make something themselves.
A walking stick with the carved head of a dog, soap and jam were among the gifts with the personal touch.
When gifts fall foul of the rules they are either returned or, where appropriate, can be donated to charity.
Mr Wilcox added: "When declining, it's crucial we acknowledge the thought behind it and, generally, police officers are good communicators."
North Wales Police
Two baby hats, mittens and blankets for pregnant PCSO
Children's seaside-themed postcards given as a gift to a PCSO by an informant
Two packets of Saudi Arabian dates
A can of fabric protector
10 packets of dog treats - donated to animal rescue home
Liverpool FC mug
£160 in cash, three £1 notes and one 10 shilling note, along with instructions on how to clean old bank notes (donated to charity)
Book on the conservation of the red squirrel
Traditional Filipino wooden musical instrument from visiting police force
Two jars of pickled red cabbage
Six old board games/jigsaw puzzles
Free professional trouser repair
Home-cured Polish sausage
A sherbet Dib Dab
£10 Pizza Express voucher
Book 'A Portrait of a New Angola'
South Wales Police
96 bottles of Lucozade
Tickets to Moulin Rouge charity night
Camel glass ornament
Woman's mountain bike
Shampoo
Toy doll and toy turtle
Novelty baby grow, baby booties, Minnie Mouse baby towel
Thai taxi 'phut phut' key ring
Bucket of 225 anti-bacterial wipes
Hindu robe
Knitted Kindle case in the shape of an owl
Box of six freshly laid eggs
A £50 pine Christmas tree
Five Lotto tickets (not known if the police officer subsequently became a millionaire)
Chicken pie and a small portion of chips
Handmade walking stick with the carved head of a dog
Small model fisherman from the parliament of Georgia
Bumper pack of nappies
Gwent Police
Baby clothes
Cufflinks
Shoulder patch
Christmas shopping trip to Bath
Christmas crackers and wrapping paper
Homemade soap
Tub of fruit
Sausages
New Zealand woven police badges
Jars of homemade jam
Dyfed-Powys Police
CD 'No Thee No Ess'
Small bag of fresh cockles
Teapot in the shape of a policeman
An old TV with VHS capability and two casual chairs
Hedge cuttings
A live lobster
Metal flower fashioned out of a bullet
A box of instant curry sauce
A complete dog kennel
A framed painting of police constables sitting down, drinking tea and talking to each other