Dyfed-Powys Police appoint ex-terrorism officer as deputy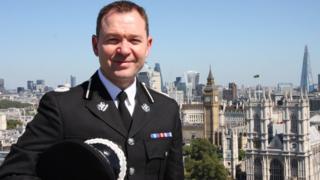 A former counter-terrorism officer at the Metropolitan Police has been appointed as deputy chief constable for the Dyfed-Powys force.
Darren Davies, who began his career at the force in 1988, has recently been on a seconded position as assistant chief constable at the Met.
He replaces temporary Dep Ch Cons Liane James.
Mr Davies said: "I am absolutely honoured to be returning to serve in the force."
A former Whitland Grammar School pupil, Mr Davies is married with four children.
Mr Collins said: "Darren has a long and distinguished history as a serving officer in Dyfed-Powys Police and further afield and I am sure the experience he has gained regionally and nationally will benefit Dyfed-Powys Police upon his return."