Restorative justice gave Welsh offender 'insight'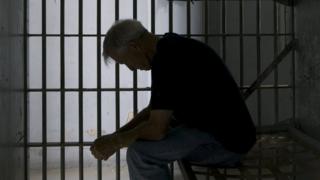 A Welsh man given a life sentence for a violent crime has said meeting victims of crime has offered him "insight".
This week BBC Radio Wales's Good Morning Wales programme has been looking at restorative justice, which brings together those harmed by crime and perpetrators to help both recover.
Lee - not his real name - served more than 10 years in prison.
He said the process of meeting victims "opens offenders up" to seeing the pain they have caused and helps victims.
"You see somebody in front of you who has had pain from the same sort of situation that you have created and I think it opens you up even more to seeing that pain and knowing exactly what you have done," he said.
The UK government has spent £23m on restorative programmes over the last three years.
The Wales Restorative Approaches Partnership (WRAP) said this week authorities should not "replace criminal justice" but said restorative justice can help after a women's charity raised concerns for domestic abuse victims.
Lee, who now works with WRAP, said he got into drink and drugs after being sexually abused from the age of seven to 14.
"Looking back, it was a way of trying to block out what was happening to me," he said.
"But at the same time I was starting to feel really angry and quite resentful towards this person who had done what they had done to me."
'Dark place'
He said he was later kicked out of home and fell into a "pattern of going in and out of destructive relationships" with further substance abuse.
After committing a serious violent crime, Lee was "absolutely shocked" to be sentenced to life imprisonment. He said he "went into a dark place."
"I was not in a dark place because because I felt sorry for myself because I was in prison, it was because of my crime - and I just felt I needed to be punished," he said.
Lee said guilt was the predominant emotion, adding: "I didn't know how to try and make amends in any way."
And it was not until he began working at the prison chapel, where he was invited to help with a restorative justice programme, that Lee experienced a turning point.
"It really gave me insight into, not just myself, but all the prisoners who have been on there - to see the ripple effect that our crimes had had," he added.
'In tears'
Lee said restorative justice schemes cannot always unite offenders with their actual victims so they often pair them with people who have suffered due to similar crimes.
"I can honestly say the majority of them (the offenders) would be in tears - and you're talking big strapping men," he explained.
Lee said one woman he met said it gave her hope that the man who had harmed a member of her family was also trying to make amends.
After he was released from prison, Lee began working for WRAP, visiting schools to "deglamourise" prison.
He said the experience of restorative justice had undoubtedly changed him.
"Mentally, I live with what I did everyday, but it's part of my journey," Lee added. "I created the victim I created and it's something I have got to live with for the rest of my life."