BBC Radio Wales appoints Colin Paterson as new editor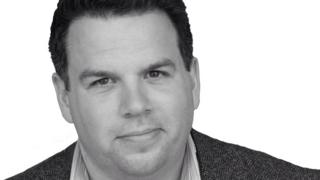 BBC Radio Wales has appointed Colin Paterson as its new editor.
Mr Paterson will join the station next year, leaving his current role as general programmes editor at BBC Radio Scotland.
He replaces former editor Steve Austins who stepped down in October.
Mr Paterson has already worked as executive producer at Radio Wales, and also across the commercial radio sector.
He launched the speech station Talk 107 in Edinburgh before becoming programme controller at Red Dragon Radio in 2008.
BBC Cymru Wales director Rhodri Talfan Davies said: "I know Colin can't wait to get started - and to rejoin the station's programme teams.
"His incisive mind, his passion and his deep understanding of radio will be invaluable as the station nears its 40th birthday in 2018."