Children in Need beats Welsh record to raise £2.55m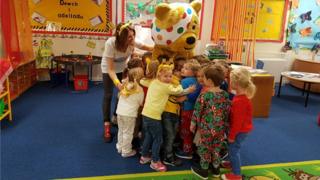 Children in Need raised £2.55m in Wales as the national appeal total hit £46.6m on a record-breaking night dedicated to former host, the late Sir Terry Wogan.
The total was about £900,000 more than last year's £1.6m but only covers Friday's donations - the final total should be known within six months.
Singer Wynne Evans hosted a night of entertainment and fundraising from Swansea University's Great Hall.
"It's a truly staggering amount," said Jemma Wray, the charity head in Wales.
More than £9.2m was spent by the BBC charity on 159 active projects in every county in Wales last year which helped 20,000 disadvantaged children.
Since the first major appeal in 1980, more than £885m has been raised to help children in the UK.
"I'm genuinely lost for words," added Ms Wray. "Each year people just do more and more for us.
"I feel very privileged to be one of those who gets to go and see the difference the money makes in action and to get to meet so many truly inspirational project workers and young people, who despite the odds stacked against them, fight to flourish and overcome the challenges they face in their lives."
Pyjama parties, leg waxing and carwash karaoke were among the many fundraising activities which took place across Wales on Friday to raise money for this year's event.