Prison officers in Wales ordered back to work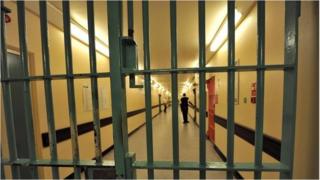 Over 500 prison officers in Wales are among those ordered by the High Court to end a 24-hour protest.
The staff in Wales joined colleagues in England over claims of a "surge in violence" in jails, with some court cases disrupted as a result.
It is illegal for officers to strike, but the Prison Officers Association (POA) argued the government had not provided safe working conditions.
However, the judge said the case for an injunction was strong.
Officers at prisons in Cardiff, Swansea, and at Prescoed, Monmouthshire, were invited to take part in the protest involving around 10,000 POA members from England and Wales on Tuesday.
The privately-run Parc Prison at Bridgend was not affected by today's prison officer walkout.
The protests affected prisoner transport and brought an unknown number of court cases to a standstill.
Granting the application, Mr Justice Kerr said there was evidence 80% of staff had taken some sort of action in most prisons.
"A number of incidents have occurred in prisons today and the situation is very concerning indeed," he said.