Abertillery man 'blackmailed women with sex videos'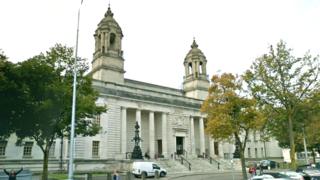 A college worker has gone on trial accused of blackmailing women he met on a dating site with intimate videos.
Farhan Mirza, 38, of Abertillery, Blaenau Gwent, is charged with voyeurism, blackmail, theft and fraud.
Cardiff Crown Court heard he filmed women exposing parts of their body without their knowledge before demanding money.
Mr Mirza, who denies the charges, said all of the women had consented to being filmed.
Prosecutor Tim Evans said Mr Mirza, who works at the Usk campus of Coleg Gwent in Monmouthshire, had lied about being a wealthy doctor.
His three alleged victims were all Muslim women and the court was told they had been targeted because of the "terror" and "embarrassment" they would have felt.
The first woman was described as a doctor from Pakistan who Mr Mirza had formed a relationship with.
The jury was told she spent thousands of pounds on him, and he asked several times to film them having sex, but she declined.
She later discovered a video of them having sex on Mr Mirza's computer, along with copies of her passport and visa.
Mr Mirza told police he kept records to "keep someone like her on a straight path".
The court heard he continued to demand money and eventually sent her a "horrific" and threatening video with images of death on it.
It was at that point she went to the police.
'Make her famous'
When Mr Mirza's phone was examined, two other alleged victims were discovered who he had met through a dating site, the jury was told.
He asked one woman to intimately examine her to help her with her medical problem. He also demanded money, promising to "make her famous" by using a secretly filmed video.
The court was shown a video of a third woman dressed in a towel after a shower, which the prosecution said she never consented to.
The court heard Mr Mirza demanded expensive gifts from her and promised to marry her.
He denies all the charges and the case continues.
Charges
Voyeurism, between 1-29 Feb 2012
Voyeurism, between 1-31 March 2013
Voyeurism, between 1-31 May 2014
Blackmail, 15 July 2013, demanded a medical certificate
Blackmail, between 1-31 Aug 2013, demanded £500
Blackmail, between 1-31 Oct 2013, demanded £2,000
Blackmail, between 1-31 Dec 2013, demanded handbags, clothing and cutlery
Theft of a laptop between 11 January 2014 and 1 March 2014
Fraud between 10-22 Dec 2013 - told a woman he was a doctor of medicine