National Waterfront Museum becomes infants' classroom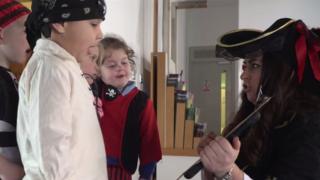 It is 10:00 BST and the school day is underway for a group of four-year-olds in Swansea. But instead of the classroom, they are learning at the city's National Waterfront Museum.
Their school has been part of a pilot project looking at the impact of learning in a museum.
Research by King's College London found the pupils gained confidence and enhanced their social skills.
They also became better communicators and teachers benefited too.
The children from St Thomas Community Primary School were the only Welsh pupils to take part in the UK-wide study, spending 10 weeks at the museum.
They took part in activities including a marine science day with marine biologists from the city's university looking at starfish, crabs and other creatures found in Swansea Bay.
Teacher Laura Luxton said she noticed changes in the pupils.
"They grew closer as a team, it was as if they felt more dependent on each other now they weren't surrounded by other children - they bonded and looked after each other and were working together far more," she said.
"The children also became more socially adept to life in a public place; respecting elderly people, respecting strangers and the need for safety, and, most obviously improved were their manners - I don't think we could walk past people without them commenting on how small but well behaved the children were."
Katherine Bond, director at King's College London's Cultural Institute, said: "The project findings will inspire schools and museums across the UK and contribute to the debate around creative and cultural learning.
"We hope that the pilot projects will lead to new models for the delivery of the national curriculum and that extended school residencies in local museums eventually become part of every child's education."