RS Thomas poems discovered in art books are published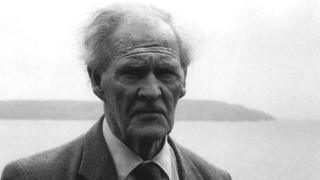 A collection of previously unseen poems by poet RS Thomas have been published, 16 years after his death.
When Thomas died, his wife, Betty Thomas, donated his books to the RS Thomas Research Centre at Bangor University.
Researchers there found three dozen handwritten poems interleaved in two books on modern painting, which were responses to artwork featured in them.
Thomas, who was born in Cardiff in 1913 and grew up on Anglesey, died in 2000.
'Unsettling poems'
Professor Jason Walford Davies, a co-director at the centre, said: 'The poems in the collection repeatedly show a willingness to confront, without the comfort of illusions, a modern world in which old feelings of certainty have been undermined.
"They are unsettling poems, which perhaps tells us something of the poet's state of mind in this late phase of his career."
Professor Tony Brown added: "As we have discussed in the introduction to this new collection, although he rarely visited major galleries and collections, RS Thomas was interested in art throughout his life."
The collection is called "Too Brave to Dream: Encounters with Modern Art".