Murdered man Michael Lee Emmett recognised as girl's father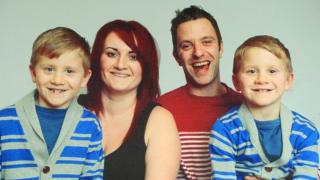 A woman whose partner was murdered has won a two-year battle to name him as their daughter's father.
Michael Lee Emmett, 29, of Blackwood, Caerphilly county, died after being stabbed in the attack in August 2014.
His partner Natalie Preece, 28, was not allowed to put his name on daughter Lola-Grace's birth certificate - because they were not married and he was not alive to sign it.
He has now been officially recognised as her father after a DNA test.
Father-of-three Mr Emmett went into a coma after the attack and died four weeks later without ever seeing his newborn daughter.
Their daughter had to give a DNA sample, which was positively matched with Mr Emmett's parents, before Ms Preece could get a court order to add his name to the certificate.
"I have been through hell to resolve this - even having to go to court," Ms Preece said.
"There was a blank space on the birth certificate where Michael Lee's name should have been for two years.
"I am very angry. The amount of red tape I have had to go through to get Michael Lee's name put on our daughter's birth certificate was outrageous."
Ms Preece said it means Lola-Grace, like her brothers, would have access to any criminal injuries compensation that might be available to them in the future.
A Home Office spokesman said: "It is important that all details on a birth certificate are accurate.
"In the sad circumstances where one parent has died before a birth is registered, we rely on a court to make a declaration of parentage after considering the evidence."
Connor Doughton, 16, who knew his victim, admitted murder at Cardiff Crown Court and was given a life sentence in February 2015.