Plan to share Dyfed-Powys Police station buildings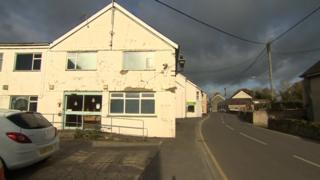 Police station buildings could be shared with the fire service and councils in a bid to save money in the Dyfed-Powys force area, the police and crime commissioner has said.
Dafydd Llywelyn stressed he was not looking to cut the number of police stations.
But the move has been met with some criticism.
It follows a shake-up announced two years ago to relocate 11 stations.
"We're already looking at opportunities where we can perhaps co-locate," he told the Newyddion 9 programme.
"So we might co-late with the fire service or with the unitary authority.
"It's not to reduce the amount of footprint that we have in a particular community but it's to perhaps change the nature of that footprint."
Adapting buildings
Mr Llewellyn added there were also "opportunities" to pull together policing services with other forces in Wales.
But the move has been criticised by some.
Councillor Hazel Evans said plans to relocate and share a station in Newcastle Emlyn, Carmarthenshire, was not workable.
"I don't see the cost saving because you would have to adapt any building you move into," she said.
"This has got everything - it's got the parking spaces, they tell me they need the room to store things, it's an ideal location between Cardigan, Lampeter and Carmarthen.
"It would prevent any crimes because of its visibility."