Assaults on ambulance staff reach six-year high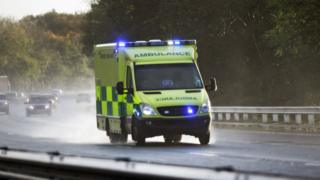 There were more attacks on ambulance staff during the past year than in any of the previous six, figures obtained by BBC Wales have shown.
There were 273 reported assaults on Welsh Ambulance Service staff last year, up by 14% on 2014-15, and higher than any year since 2009.
They include incidents of physical violence and verbal abuse.
Tracy Myhill, chief executive of the Welsh Ambulance Service, said the figures were "so disappointing".
She said: "Our staff should be able to work without fear of violence, abuse or harassment.
"They're there to help the community's emergency medical needs and do not need to be obstructed by unwarranted attacks in already difficult circumstances.
"That's why it's so disappointing to see an increase in the number of attacks."
Darron Dupre, ambulance lead for Unison Cymru Wales, said: "It is both terrible and an indictment of how little we value emergency crews that reported assaults in Wales have increased by over 50% since 2009-10.
"These figures also show that assaults are not just carried out by patients who are under the influence, or who do not have the mental capacity to understand their behaviour.
"They are carried out by patients' families, friends and abusive crowds."
David Thomson, who has been a paramedic for 23 years, mostly in north Wales said he was assaulted three years ago in a "frighteningly abusive" attack that left him "so shaken".
He said: "A lady had stopped breathing at a nursing home and I attended on my own. When I arrived I dumped the car and ran in."
Utterly vicious
As he entered the home, a man grabbed him and said he would have to move his car. Mr Thomson pushed past and stabilised the woman but came back out later to get more equipment.
"He was standing there, aggressively, and then he went for me. He said 'I'm going to kill you' and threatened my family.
"He took the drugs from my vehicle, which I managed to wrestle back, but then got into his car and tried to ram into mine. Then he drove away."
Later that day, the man arrived at the ambulance station where Mr Thomson was working. "He came there with the intention of assaulting me", he said.
"It was just completely and utterly vicious. I had to take time off because I was so shaken."
Mr Thomson said he recognised the rise in assaults on ambulance staff: "It has crept up - I've noticed it, it has become more common."
He also said he still feels the effect of the assault now. He said: "I still deal with and carry that around now - I'm a hell of a lot more aware of my surroundings."