£4.5m of criminal profits seized by Welsh police forces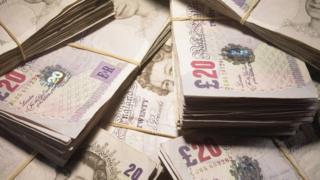 More than £4.5m of criminal profits have been confiscated by three Welsh police forces in the past three years using the Proceeds of Crime Act.
Gwent, South Wales and Dyfed-Powys Police collected the money but at least £1.5m more remains unrecovered, according to BBC Wales research.
Natural Resources Wales (NRW) has used the act to seize almost £1m from people who have damaged the environment.
However, critics say the act is "not fit for purpose".
The Home Office said it was consulting on a new unexplained wealth order to strengthen efforts to seize assets.
Since 2013, courts have ordered people convicted of a "criminal lifestyle" to pay more than £6.8m after investigations by Wales' four police forces, according to figures compiled by BBC Radio Wales' Eye on Wales programme.
Three forces - Gwent, South Wales and Dyfed-Powys - have collected £4.5m of the orders.
'Designed to fail'
North Wales Police was behind confiscation orders worth a further £800,000 but figures on how much has been collected were not available. In all, the forces have used the act almost 800 times in the past three years.
The research came as the Law Commission asked legal experts whether it should review confiscation laws.
Kennedy Talbot QC, a member of the Proceeds of Crime Lawyers Association, said: "If you were to come up with a piece of legislation which is designed to be pretty useless in the majority of cases, this is what you would implement. It is designed to fail."
Michael Levi, professor of criminology at Cardiff University, said POCA was "not fit for the purpose that the government intended it".
"What people have spent on 'fast women and slow horses' cannot be recovered," he added.
"People assume criminals are Protestant-ethic business people who've squirreled away all the proceeds of crime in order to integrate into the respectable economy.
"That's just not true for most offenders - they are in crime to have a good time."
Where POCA money goes
Mixed martial arts gym Tillery Combat MMA in Blaina, Blaenau Gwent, was given a £5,000 police and crime commissioners' grant, which was gathered using POCA, three years ago for new equipment.
It is the base for Jack "Hammer" Marshman, who has just joined the Ultimate Fighting Championship.
Mr Marshman joined the Army at 17 and served in Afghanistan with the 3rd Battalion, the Parachute Regiment, but only after the gym helped him call a halt to his teenage troublemaking.
He said: "I was a nightmare; I got kicked out of school, I got arrested a few times. There isn't a lot to do round here and I used to get into silly little things.
"It all stopped when I joined here. From joining here, I got fit and ended up joining the parachute regiment. That's been the last 10 years of my life. So it all worked out."
Prof Levi said more could be done to target people making sometimes huge sums by breaking Wales' environmental laws.
"We need to act a lot tougher and be a lot more vigorous in our pursuit of those kinds of cases."
NRW has brought 17 POCA confiscation orders in the past three years totalling £1.7m and has recovered £973,000 from 14 of the orders.
A spokesman said the work was "resource-intensive but necessary".
"NRW considers confiscation proceedings a way to remove the ability to reoffend, to remove the financial motivation behind offending and to ensure that there is no financial advantage for illegal operators," he added.
Part of the money recovered under the law finds its way to police and crime commissioners (PCCs) who in turn give grants to community, charity and sports groups.
Former Labour home secretary Lord Blunkett said of the law he pioneered: "I can't deny it doesn't work very well, because it doesn't work very well."
A Home Office spokeswoman said the unexplained wealth order in the Criminal Finances Bill introduced this month to amend POCA will require a person to explain the origin of assets that appear to be disproportionate to their known income.
"Law enforcement agencies only have to prove, on the balance of probabilities, that the property is derived from unlawful conduct. They can be served on people wherever they are in the world.
"If no answer is forthcoming, the court can assume that the property in question is the proceeds of crime and asset recovery action can be taken."
Eye on Wales' POCA report, BBC Radio Wales, Sunday, 12:30 GMT.