Louise Hopkins killed by van on A465 was 'shielding man'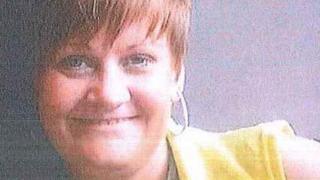 A woman was killed trying to shield an autistic man from traffic on a dual carriageway in Merthyr Tydfil, an inquest has heard.
Louise Hopkins, 41, a voluntary carer, was protecting the man from passing cars after breaking-down on the A465 on 5 November last year.
But she was hit by a van's wing mirror and died instantly of head injuries.
The coroner at the Aberdare hearing concluded a narrative verdict, that she died due to a road traffic collision.
Clerical worker Ms Hopkins and the man, Keith Jones, were marooned on the road at night when her Citroen C1 ran out of petrol.
Ms Hopkins took him by the hand and set off to walk to a nearby Asda supermarket but the inquest heard the pair were seen "huddling" together as cars drove past.
They were in dark clothing, it was windy and there were no street lights on the A465 between Pant and Dowlais.
'Gravest danger'
Van driver Lindon Gregg told the hearing: "All I heard was a bang, I thought I'd hit an animal or something.
"I can't understand why I didn't see her."
The inquest heard Mr Gregg, who was driving a Mercedes Sprinter van, was travelling at 56mph when the wing mirror hit Ms Hopkins, who was walking in the carriageway.
Other drivers had reported the couple to police after swerving to avoid them in the darkness and Mr Jones was found cowering in bushes after the incident.
Ms Hopkins' mother Helen O'Donovan told the inquest: "Louise was an inspiration to people, she always put herself second.
"She looked after Keith who has autism, he was part of her family."
Coroner Andrew Barkley said: "She was shielding Keith from the traffic and putting herself in the gravest of danger.
"Drivers had to swerve and missed her by a matter of inches before she was hit by the van."
Ms Hopkins' son Joseph, 12, paid tribute to his mother after the accident, saying: My mum's very free and kind and she would go without important things for other people. I loved her very much."