Gordon Anglesea sex abuse case jury retires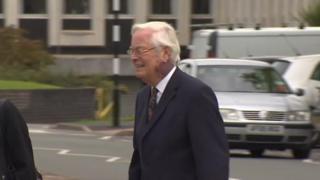 The jury in the trial of a former north Wales police officer accused of sexually abusing two teenage boys has retired to consider its verdicts.
Ex-police superintendent Gordon Anglesea, 79, denies sexually assaulting two youths in the 1980s.
During a six-week trial at Mold Crown Court, it was claimed one of the complainants was assaulted in Wrexham, and the other at a house in Mold.
Mr Anglesea, of Old Colwyn, Conwy, said the claims were a "conspiracy".
He denies one charge of indecent assault against one boy and two charges of indecent assault and one serious sexual assault against another.
One complainant described being abused in showers at an attendance centre in Wrexham when he was a child.
'Lies and inventions'
He said the serious sexual assault left him in pain, adding: "You didn't mess about with him, you would get a clack.
"Everybody would get a clack off him. He'd show who was boss."
Mr Anglesea had alleged connections to convicted paedophiles including John Allen, who is serving a life sentence after he was jailed in 2014 for abusing 18 boys and one girl in his care.
Another alleged victim said he was first sexually assaulted by Allen while in care at Bryn Alyn Children's Home before being "handed around like a handbag" to other men, including Mr Anglesea.
The jury heard the alleged victims and witnesses had led "troubled" lives and Mr Anglesea's defence case was the allegations were simply "lies and inventions".