Nathan Gill 'embarrassed' by UKIP infighting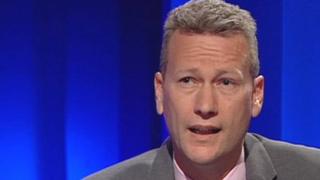 Welsh UKIP MEP Nathan Gill has said he does not know if he will still be a member of the party in a year's time.
Mr Gill, who also sits as an independent North Wales AM in the Welsh Assembly, said he was embarrassed by infighting within the party.
His comments come after two UKIP MEPs were involved in altercation.
"Unfortunately, right now, we just seem to be sliding back into the infighting in a very public way," he told BBC Radio Wales' Sunday Supplement.
He described the last week, which started with the departure of former party leader Diane James and the return of Nigel Farage, as "horrendous".
UKIP MEP Steven Woolfe, who is among the favourites to be the party's next leader, was taken to hospital on Thursday after an altercation at the European Parliament in Strasbourg following a meeting of UKIP members.
An investigation has been launched.
Mr Gill said: "There have been many times this week when I have held my head in my hands... and just thought 'what on earth in the world is going on' and I am embarrassed by what has been going on."
Asked if he thought he would still be a member of UKIP in a year from now, he said: "I don't know."
He added: "I do feel very, very saddened by the behaviour of many people within my party right now."