Make heart operation 'routine' in Wales, Cardiff surgeon says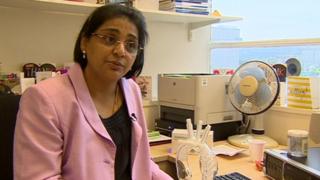 Surgeons are calling for a complex heart operation to become routine in Wales after successfully performing it in Cardiff for the first time.
Until recently, the surgery - total hybrid aortic arch replacement - had to be carried out in two stages.
But a new procedure means it can now be carried out in a single operation at University Hospital of Wales (UHW).
Lead cardiac surgeon Indu Deglurkar said it would be an "enormous relief" for patients in Wales.
Currently, patients needing the all-in-one surgery - also known as a "frozen elephant trunk" operation because of the shape of the aortic arch - have to be referred to Birmingham.
But, after a special request for funding, the operation was performed in Cardiff for the first time tin July.
The procedure repairs aortic aneurysms - a swelling of the aorta - the main blood vessel that leads away from the heart to the rest of the body.
The one-stage surgery involves patients being cooled to 18 or 20 C, after which blood is drained from the body.
With no blood flowing through the body, surgeons selectively open the aortic arch and insert a tube, made of special material, which strengthens the outer walls.
Miss Deglurkar said that while the operation was "undoubtedly cost-effective", the real benefit is to patients "not having two procedures, but one".
But in order to perform the procedure in Wales the team has to make individual requests for special funding.
Instead, Miss Deglurkar is calling for it to be made routinely available in Wales.
She added: "It saves lives. This is what we need to have as a routine service here."