Betsi health board pharmacy trial extended to help GPs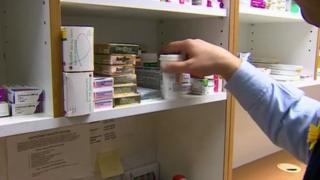 A trial to ease pressure on GPs by encouraging people to seek advice from pharmacists is being rolled out across north Wales.
In the last year, 19 pharmacists carried out 2,000 consultations with people needing help for minor ailments.
The Common Ailment Scheme (CAS) enables people to receive treatment from a pharmacist for things like head lice.
Betsi Cadwaladr University Health Board said it was the first in Wales to extend the CAS to all its pharmacies.
The roll-out begins on Monday and is due to be completed by March.
Last March, the Welsh government invested £750,000 in technology as part of its Choose Pharmacy project to improve integration between NHS providers.
It allows, for example, patients' hospital discharge information to be shared with a nominated pharmacy so a follow-up review can be completed by a pharmacist.