Wrexham teen takeaway attacker given custodial sentence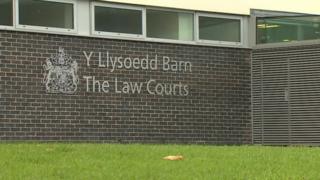 A teenager who stabbed a fast food delivery man in the face has been given a two year custodial sentence.
The 17-year-old refused to hand over £52 for the takeaway meal that arrived at a house in Wrexham - instead attacking the delivery man with a kitchen fork.
Victim Steven Shields was stabbed just under the chin and his attacker stole the food from him.
He admitted robbery at a youth court in Mold on Wednesday.
The court heard the incident took place close to midnight on 29 September, when the defendant demanded his victim give him takeaway food before the bill had been paid.
He told Mr Shields to "give me the food now".
"He then stabbed him to the chin with a fork," said prosecutor Helen Hall.
"Nasty incident"
The court also heard that the young offender had only been released from custody for a matter of days after serving another detention and training order.
A warrant had also been issued for his arrest for breaching the terms of that release - for which he received an additional three month detention order.
Defence solicitor Melissa Griffiths said the defendant was drunk at the time and knew that he had "messed up".
Miss Griffiths conceded it was a "nasty incident" involving a man doing his job, and that it would have been distressing for the victim.
He was detained for 27 months.