Police commissioner drove accused to children's home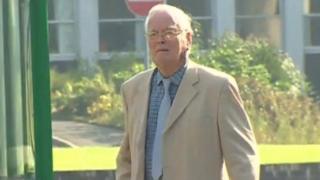 The North Wales Police and Crime Commissioner has told a court how he used to drive a former superintendent accused of historical sexual abuse against two boys to a children's home.
Arfon Jones told Mold Crown Court he was a constable when he first met defendant Gordon Anglesea when he was an inspector in Wrexham.
Mr Jones said he would take the ex-officer to Bryn Estyn home in Wrexham.
Mr Anglesea denies sexual abuse against two boys in the 1980s.
Mr Jones was elected as the police and crime commissioner for the region earlier this year and had been a police officer between 1978 and 2008.
He was asked by prosecutor Eleanor Laws QC whether he recalled "giving Mr Anglesea lifts during the course of his or your duties?"
"Yes," he replied.
He added: "The only place I recall taking him to was Bryn Estyn."
Asked how often, he said it was "probably a half a dozen times".
Cautions
He told the court Mr Anglesea would be in uniform and the car was a police vehicle.
Mr Jones said: "I was under the impression he was going there to administer cautions to the children."
He said he would "drop him off and leave him there and carry on with whatever I had to do".
Asked how Mr Anglesea would leave, he replied: "No idea."
Cross-examined by Tania Griffiths QC, defending, he said that he would not know if Mr Anglesea had the consent of the chief inspector at the time to go to the home.
He did not know what conversations the owner of the home had with the chief inspector or with the defendant.
Mr Jones agreed that he was a junior officer simply taking him there at the time.
Mr Anglesea, 79, from Old Colwyn, denies two counts of indecent assault and one serious sexual assault against one boy, and one charge of indecent assault against another.
The trial continues.