Councils 'too quick to use tax bailiffs', charity says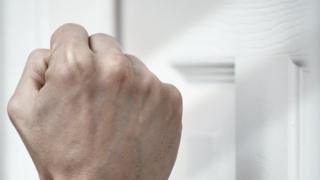 Many councils are too quick to use bailiffs when pursuing council tax debts, Citizens Advice Cymru has said.
The charity said council tax debt was the biggest debt problem it saw, and wanted a fairer approach to debt recovery across Wales.
In 2015-16 almost 6,000 people asked for help with 16,000 problems about council tax, up 7% on 2014-15.
The Welsh Government said some people faced very difficult circumstances and bailiffs should be a "last resort".
The charity wants the Welsh Government and the Welsh Local Government Association to help tackle the issue.
As well as the overuse of bailiffs, Citizens Advice Cymru identified other concerns, including people being asked to pay debts at an unsustainable rate and inadequate systems for identifying someone who is vulnerable.
Lindsey Kearton, policy officer for Wales, said there were often good reasons why people got into arrears - changes in jobs or benefits as well as zero-hour contracts and seasonal work.
She said: "At the moment, there's an automated process and letters are sent out that perhaps people don't always respond to.
"The next thing people know they've got a bailiff knocking on their door demanding money that they just haven't got and they can't afford. Quite often there are reasons why people haven't been able to repay that debt.
"We want local authorities to take account [of those reasons] when setting up repayment plans, to ensure that those plans are affordable.
"It would encourage people to set up a more sustainable solution for everybody - the people struggling to pay and the local authority dealing with that debt."
A third of Citizens Advice Cymru clients dealing with council tax debt reported an issue with bailiff enforcement.
The report said: "Many advisers consider that their local authority uses enforcement agents far too readily to recover council tax debt, with insufficient time given to explore other repayment options."
Before pursuing enforcement action, a local authority must ask a magistrate for a liability order.
The report said: "Some local authorities are pursuing court action for debts as low as £50 or £60. In one extreme case, a liability order had been pursued for a debt of £3.95."
Flintshire councillor Aaron Shotton, the WLGA spokesperson for finance, said: "Local government is working at ground level in Wales to manage the impacts of ongoing austerity, and is more than aware of the difficult financial challenges many people in our communities are facing.
'Prevent debt escalating'
"While councils have a clear duty to deliver an efficient and fair council tax collection service to help fund the local services our communities rely upon, their approach is a sympathetic one."
He said councils were fully committed to supporting people in difficulties and the WLGA would be considering the recommendations of the report.
He added continuation of the the Welsh Government's council tax reduction scheme as a fully funded policy would be "key" to offering ongoing support to vulnerable people.
Local Government Secretary Mark Drakeford confirmed he would be extending the scheme to 2017-18, adding: "Approximately 300,000 vulnerable and low-income households in Wales will continue to receive the help they need.
"We need to recognise that some people are facing very difficult circumstances and in these instances bailiffs should always be the last resort.
"I want to look at ways in which we can develop more proactive approaches to help prevent debt escalating and I'll be commissioning further research to look into this area."