Ballot shuts on Welsh university Unison pay strike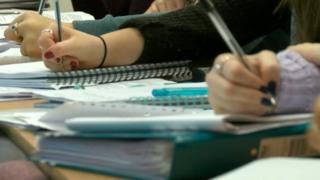 A ballot on strike action at Welsh universities over pay and conditions will close on Monday.
Unison accused universities of relying on temporary agency workers and rewarding only the highest-paid staff.
It said the use of zero-hours contracts "trap people in poverty".
Universities said the use of agency workers was widespread in higher education and competitive salaries were needed to attract the right calibre of staff.
Aberystwyth University had more than 660 members of staff on zero-hours contracts last year. Glyndwr University has more than 360 and Swansea more than 300.
Unison said such contracts "deprive workers of basic employment protections, regular guaranteed earnings and trap people in poverty".
Aberystwyth University said it had been working closely with the unions to reduce the number of staff on zero-hour contracts, and the current figure for September 2016 is 195.
Swansea University said it used the contracts in a way that was mutually beneficial to both the university and the members of staff concerned. Glyndwr has been asked to comment.
Simon Dunn from Unison said: "How dare universities behave in this way. This isn't a sensible employment plan, it is exploitation.
"We are asking for fair pay for all university staff and for universities to return to the negotiating table."
The union raised questions over money used for agency staff, saying Cardiff University spent £1.8m in the last year, and the University of South Wales increased spending by 253% to £854,000 in 12 months.
Spending at the University of Wales Trinity Saint David (UWTSD) increased by more than 1,000%.
Cardiff University said salaries needed to be competitive for it to maintain global success and it was one of only a handful of UK universities paying the living wage. It said agency staff were widely used in the sector.
UWTSD said its increased expenditure was in relation to a merger process and the University of South Wales said the agency figure included students working part-time for the university, and it was a small proportion of the total amount spent on wages.
Unison said the remuneration of Welsh vice chancellors was "in stark contrast" to the wages of lowest-paid employees, and said pension contributions "dwarf" the earnings of administrators, security and other support staff.