Jobs at risk as Nation Broadcasting plans to relocate stations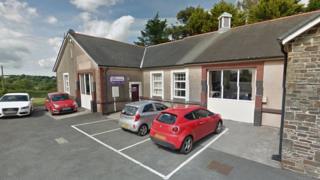 A local radio broadcaster has launched a consultation to relocate its west Wales stations to Vale of Glamorgan.
Radio Pembrokeshire, Radio Carmarthenshire and Radio Ceredigion are broadcast from Narberth, but it has proposed transferring to St Hilary.
A member of staff, who did not want to be named, said that presenters and producers are facing redundancy.
Nation Broadcasting said it was discussing "the future technical delivery of its west Wales services".
It operates seven commercial radio stations in Wales and Thames Radio across London.
The other stations in Wales are Nation Radio, Dragon Radio, Bridge FM and Swansea Bay Radio. According to Rajar Q1 figures for 2016, they have a combined weekly audience of more than 250,000 listeners.
'Discussions'
Information sent to staff, and seen by the BBC, said a consultation has been launched with the programming team based at Narberth this week.
The company is proposing to transfer the three west Wales services at Narberth to St Hilary, near Cowbridge, before the end of the year.
It has proposed creating two new roles to supply and supervise local content - one at St Hilary and the other at Narberth.
A statement from Martin Mumford, group managing director of Nation Broadcasting, said: "We are looking to improve our business all the time.
"At the moment we're discussing proposals around the future technical delivery of our west Wales services and until that process is complete it would be inappropriate to comment in detail."
Mr Mumford added: "I can confirm that there are no plans to re-brand any of the market-leading services in west Wales or diminish the specific local information we provide to thousands of listeners across the area every day."