Footgolf providing boost for golf clubs in Wales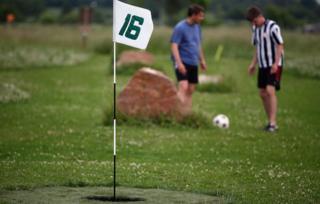 Golf clubs are boosting their coffers with the help of a rapidly-increasing craze to beat a decline in people playing the sport.
Footgolf is said to be one of the fastest-growing UK sports and involves a football and bigger size holes.
Silver Birch Golf Club in Abergele, Conwy county, was one of the first places in Wales to take on footgolf.
It is the only full-size 18-hole course and it is also hosting the first amateur Welsh Open on Sunday.
"We had about 7,500 golfers coming to play golf in 2014 and when the footgolf opened in March 2015, we had about 8,000 footgolfers in its first year while our golf membership dropped by about 500," said owner Bryn Jones.
"We increased our turnover by about 25-30% and we secured finance to build a new clubhouse which opened three weeks ago."
Spanish origin?
Mr Jones said people have visited from as far away as Kent to have a go and it is played on the same course as the standard golf.
He added it has no effect on the course as there are different greens, football boots are not allowed and there are no divots created like there is with golf.
Silver Birch is one of seven courses which are affiliated to the UK Footgolf Association, including ones in Cardiff, Denbighshire, Vale of Glamorgan and Anglesey.
The sport arrived in the UK four years ago and is thought to have originated in Spain before a tournament on a golf course first took place in the Netherlands in 2009.
It has only made its entrance in Wales within the last couple of years.
Gareth May, head of national development for UK Footgolf Association, said it has more than 200 affiliated clubs and 70,000 people playing every week.
"It's the biggest trend in the golf industry," he said. "Every golf course that's got footgolf has it for a business point of view.
'Slow burner'
"It's to increase utilisation of the golf course, it's an increase in footfall and in revenue for the club."
He added: "Wales is a slow-burner. It's a key growth area for us. There's not as many who are playing competitively.
"Wales is one or two years behind England. A lot are hearing about it for the first time and doing it leisurely in an activity or stag do.
"I think it's because it's very accessible and anyone can kick a football."