Gordon Anglesea 'used position to abuse teens', court hears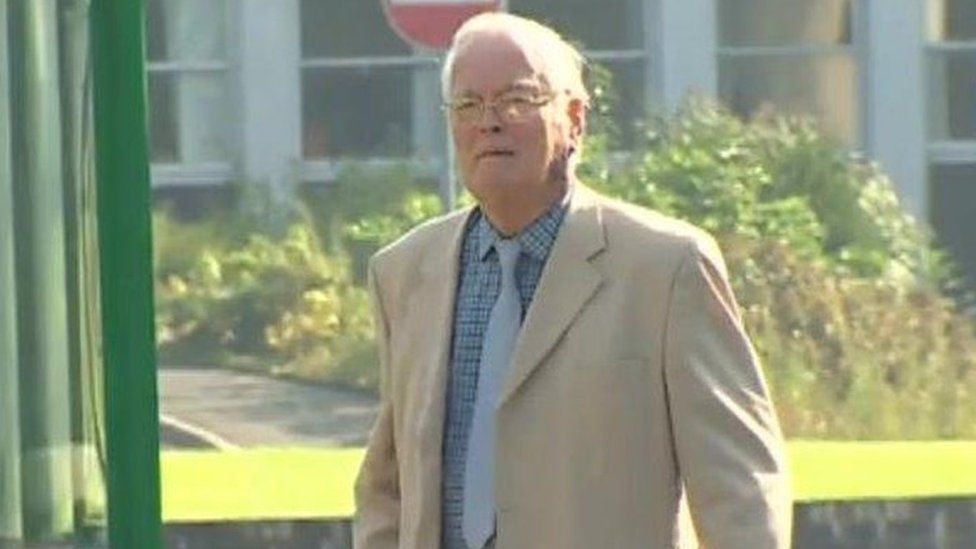 A former north Wales police chief used his position and "connections with authority" to sexually abuse two teenagers in the 1980s, a court has heard.
Former Supt Gordon Anglesea, 78, denies two indecent assaults and one serious sexual assault against one boy, and the indecent assault of another.
His trial began at Mold Crown Court heard on Wednesday.
Jurors heard how Mr Anglesea allegedly had links to convicted paedophiles.
Eleanor Laws QC, prosecuting, said the allegations dated back to when Mr Anglesea, of Old Colwyn, was a police inspector based in Wrexham in the mid-1980s.
The victims, now in their forties, were in their mid-teens at the time.
Ms Laws told the court Mr Anglesea was "in a position to abuse these two men when they were teenagers as a result of his position he held within the police force at the time".
"[It was] a time when the issue of institutional abuse and abuse by people in positions of authority was hard for most of us to believe, or want to believe - and harder for complaints to be made," she said.
Mr Anglesea's alleged connections to convicted paedophiles included to a man called John Allen, who is now serving a life sentence after he was jailed in 2014 for abusing 18 boys and one girl in his care.
One alleged victim said he was first sexually assaulted by Allen while in care at Bryn Alyn Children's Home, before being "handed around like a handbag" to other men, including Mr Anglesea, Ms Laws added.
She said the victim recalled being taken to various addresses by Allen, including a house where he was forced to perform a sex act on a man he later named as Mr Anglesea.
The man threatened him, said he had the power to send him away, called him "scum" and warned he would "never see his family again" if he complained, the court heard.
He was frightened of the man, "his power, his connections with authority" and was not sure he wanted to put himself "at risk" by complaining.
The victim said he had no faith in the police and had issues with authority.
The court heard Mr Anglesea abused the other victim while he showered at a Home Office attendance centre the accused ran in north Wales at the time.
On another occasion at the centre, Mr Anglesea subjected him to painful abuse which made him cry, the prosecution alleged.
The jury heard the alleged victims and witnesses had led "troubled" lives and Mr Anglesea's defence case was the allegations were simply "lies and inventions".
Ms Laws said: "The prosecution say that Gordon Anglesea knew he was safe, who would believe them against him, at that time a high ranking police officer?
"And that of course is his defence now: look at who they are, how can you believe them?"
The trial, set to last several weeks, continues.