FlyBe Cardiff to London City link coincides with rail work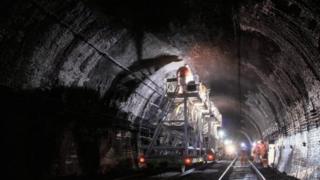 A new flight service between Cardiff and London has started and has been timed to coincide with major rail engineering works taking place.
The three times-a day FlyBe flights to London City airport operate until 21 October and are scheduled to take 1hr 15 mins
During the same period, the Severn Tunnel is closed as part of the rail electrification programme.
Passengers have been warned of up to 45 minutes extra on journey times.
The 130-year-old Severn tunnel has closed to trains for six weeks so rail engineers can install more than eight miles of electrical equipment.
The work is crucial so the faster, electric trains can run in future.
Great Western Railway (GWR) mainline services will be diverted via Gloucester between Newport and Swindon, adding about 30 minutes to journey times.
For some services, passengers will need replacement buses, which the company said will add up to 45 minutes to journeys.
Buses will run between Severn Tunnel Junction and Bristol Parkway, and between Newport and Parkway.
As well as connecting to London services from Parkway, these will be used by those passengers travelling between south Wales and Bristol Temple Meads, Taunton and Portsmouth.
GWR said with Network Rail it would be minimising disruption "as best we can".
Mark Youngman, GWR development manager for Wales, said: "The electrification of the Severn Tunnel is a vital part in the modernisation of the railway between south Wales and London; and once complete will enable us to deliver more frequent services, more seats, and to reduce journey times into London by as much as 20 minutes from Swansea."
Dan Tipper, area director for Network Rail added: "Without a solid six-week closure, it would take engineers up to five years to complete the upgrade, causing long-term disruption for passengers and delaying electrification until 2021."
FlyBe announced the new route in March, calling the return services "rescue flights" to alleviate the "travel woes" of rail passengers during the planned engineering works.
It already operates flights to London City from UK airports including Exeter and Edinburgh. The airport in east London is connected to the Docklands Light Railway.
Welsh Secretary Alun Cairns said the move would be "a helpful way of ensuring that the Welsh capital, Canary Wharf and central London stay connected" during the tunnel closure.
The Welsh Government's Economy Secretary Ken Skates said business leaders were "looking forward to the time and money it will save and the opportunities it might provide".
Scott Waddington, chairman of Cardiff Business Club, said there was hope the air link would prove viable to continue beyond October.
"Time is money and the potential time savings to businesses at both ends of the M4 is a significant incentive to use the new service," he added.
Chris Nott, senior partner at Capital Law and founding chairman of Central Cardiff Enterprise Zone said: "After the quality of the people here, transport links are the next most important thing.
"Electrification can't come too quickly, we have to have this. A core part of our message is that we're two hours away and for lots of Londoners that's just a commute - we need to get them to think of us that's just a trip down the road. This flight can really help with that."
He also said the quality of the service on trains had to be improved and the business class fares were "outrageous."