One Show Host Alex Jones expecting baby in the new year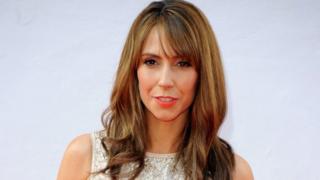 BBC's The One Show host Alex Jones is pregnant, she has announced.
She tweeted that the baby is due in the new year, saying that she feels "so lucky".
The Ammanford-born television presenter, 39, married husband Charlie Thomson in December 2015.
In a recent interview, she said she did not regret leaving it late to start a family, saying she wanted to marry someone who would "be a great father".
On Friday, she tweeted: "Charlie & I are very happy to confirm that we're expecting a baby in the new year. Feel so lucky that we're about to become parents."
The former Strictly Come Dancing contestant studied at Aberystwyth University and has hosted shows in both English and Welsh.
She is currently making a documentary called The Truth About Fertility and gave an interview to the Radio Times about it.
"My mum went through the menopause early (at 43), but I don't regret leaving it late," she said.
"I wanted to marry someone who would be a great father. He came along when I was older and now children could happen, which is great."
In the same interview, she spoke of the pressures on women to have children later, adding, "that's where the problem lies."