Bafta Cymru nominations headed by Hinterland and Sherlock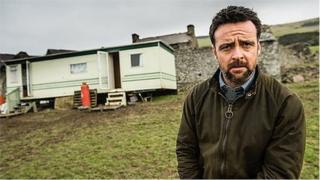 TV crime drama Hinterland has received nominations in four categories ahead of the 25th annual Bafta Cymru awards.
It has been shortlisted for television drama, director (Gareth Bryn), actress (Mali Harries) and actor (Richard Harrington - who won last year).
The awards - that recognise Welsh talent across film and television production - are awarded in Cardiff on 2 October.
Welsh-made BBC drama Sherlock received three nominations.
In the factual category, Tim Rhys Evans' All in the Mind - which focuses on mental health - also has three nominations for a single documentary.
Swansea Sparkle: A Transgendered Story and Iolo's Brecon Beacons both also received three nominations in that category.
Others nominations include Aneurin Barnard in the actor category for his role in War and Peace and Catrin Meredydd for production design on Jekyll and Hyde.
The awards will be given out at Cardiff's St David's Hall.