BT to remove 76 Neath Port Talbot and Newport payphones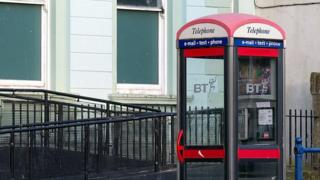 BT has written to two councils proposing the removal of 76 payphones.
The company said it believed the phones, in Neath Port Talbot and Newport, were no longer needed - but it needs local authority consent to remove them.
Neath mayor John Warman said BT was failing to meet its social obligations.
He said the removal of 53 phone boxes in his area would hit people on low incomes and those who do not have a phone.
A BT spokesman said: "None of these payphones will be removed without the consent of the local authority... any removal of payphones is carried out in strict adherence to the Ofcom guidelines."
He added usage of payphones had declined by more than 90% over the last decade, and the move comes as part of a rolling initiative to remove payphones which are no longer needed.
Mr Warman described the move as "a shock" and said it "would isolate some people in their communities".