Mold quarry pool dyed to deter children from swimming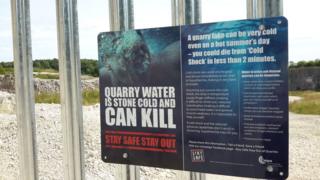 There are plans to add colour to a quarry pool to act as a deterrent and stop children swimming there.
A campaign highlighting the dangers has been launched by North Wales Police in response to concerns about people trespassing at a quarry in Flintshire.
Construction company Hanson, which operates five quarries in north Wales, said it planned to add dye to one site near Mold to put people off jumping in.
Police said the water was very cold and contained hidden dangers.
They are also on private land and anybody found swimming or on the rocks would be trespassing.
Supt Jane Banham said: "Sadly, over recent years there have been tragedies in the region whereby people have got into difficulty after entering quarry pools.
"Although it can be very tempting to jump into the nearest pool or lake to cool down on a hot day, or to swim in the water at disused quarries, the water depths are huge and it can be very difficult to get out due to the steep faces."
A Hanson spokesman said: "The fences and warning signs are there for a reason - please respect them."